Preparing for the National      EAS Test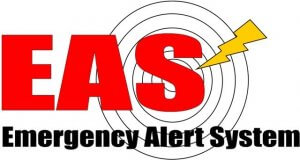 General Managers should share this with their Engineering Departments to ensure your station is ready for the test.
The National EAS Test (NPT) is scheduled for August 11, 2021.
All Radio and Television stations should make sure their EAS equipment is configured correctly to receive and relay this test at 2:20 PM EDT (1:20 PM CDT). Verify the following:
1.  Make sure EAS equipment has the latest firmware. Sage Endec (95.00), DasDec (version 3 or 4) Gorman-Redlich (Radio version 9.80.0.2 and TV V20.9.12)
2.  The two legacy EAS monitor sources comply with State EAS plan monitor assignments and have clean audio at the required audio level
3.  Incoming filter for NPT set up correctly
4.  Qualified personnel on duty to monitor the reception and relay of the test
A reminder that the test will not be fed over the IPAWS network, only via the PEP system, relayed by the LP-1 and LP-2 stations in your area.
Also, as a reminder, FEMA will be updating the Security Certificate for IPAWS data on August 21st, 2021. All stations must upload the new security patch to their EAS equipment. Contact your State Emergency Communications Committee or equipment manufacture for download instructions.
If you fail to install the security update by August 21st, your EAS units will no longer process alerts or tests from IPAWS, which will render your equipment "non-compliant" with current FCC rules.
Emergency Alert System (EAS)
Common Acronyms
| | |
| --- | --- |
| CAP | Common Alerting Protocol |
| COG | Collaborative Operating Group |
| EAN | Emergency Action Notification |
| EAS | Emergency Alert System |
| FCC | Federal Communications Commission |
| FEMA | Federal Emergency Management Agency |
| FIPS | Federal Information Processing Standard |
| IPAWS | Integrated Public Alert & Warning System |
| LECC | Local Emergency Communications Committee |
| NCMEC | National Center for Missing & Exploited Children |
| NOAA | National Oceanic & Atmospheric Administration |
| NWS | National Weather Service |
| SECC | State Emergency Communications Committee |
| SP/SR | State Primary/State Relay Network |
| WEA | Wireless Emergency Alerts |