South Carolina Broadcasters Association
SCBA serves as the voice for South Carolina Radio and Television stations by providing educational resources for members, communicating essential information for the public, and lobbying for legislation that supports broadcasters' commitment to serving their communities.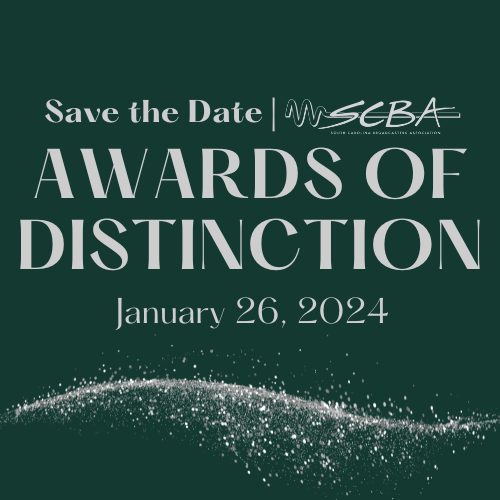 Join us as we celebrate four outstanding broadcasters during our 2024 SCBA Awards of Distinction Dinner and Ceremony. Check this link for more information about the event: 2024 Awards of Distinction
Congratulations to our 2024 Awards of Distinction Honorees!

Nicole Boone and Bob Juback – Masters Award
Nicole Boone grew up in Spartanburg County and began her 30 plus-year broadcasting career in South Carolina at WGSE, a small independent station in Myrtle Beach. Nicole joined WBTW in 1989, where she started as a reporter but soon anchored the Noon, 5pm and 6pm newscasts. She and Bob Juback co-anchored News 13 at 6pm for almost 30 years, making them one of the longest-running anchor teams in the country.  Nicole also reported medical stories for WBTW "Count On Health" news segments and specials. Nicole has won many awards over the course of her career some of which include, the Gold Ribbon Award from the Pee Dee Regional Breastfeeding Coalition, the Television Journalism Award from the South Carolina Medical Association, and two awards from the Associated Press. She demonstrates her passion for supporting her community by, serving on the Advisory Committee for Francis Marion University's Broadcasting Department, the March of Dimes Advisory Committee, and the Junior League of Florence. She also enjoys participating in projects for the Grand Strand Miracle League and the American Red Cross. For many years, WBTW broadcast the annual Children's Miracle Network Telethon to raise money for McLeod Children's Hospital and Nicole volunteered her time every spring to co-host the live broadcast. Although, during the two-day broadcast she left to give birth to her daughter. After a long and successful broadcasting career, Nicole has decided to retire from WBTW when her contract expires this December.
A 1979 graduate of the University of South Carolina, Maryland native Bob Juback began his broadcasting career at radio stations in Columbia, Spartanburg and Greenville, South Carolina.  Bob transitioned to television as a sports anchor on WYFF, WSPA, and finally WBTW from 1984 – 1987. Bob then moved to the news anchor desk where he was paired evenings with WBTW co-anchor Nicole Boone. An in-demand speaker and emcee, Bob has moderated many political debates for his station. He has also hosted the Academic Challenge put on by Francis Marion University and the Pee Dee High School Academic Challenge. Bob is an active volunteer in our community, serving the local American Red Cross, South Carolina Disabilities & Special Needs and many others.  But his passion has been helping children, Bob co-hosted the annual Children's Miracle Network Telethon to support McLeod Children's Hospital, broadcast live on WBTW; he's given his time to help Treats for Special Kids, an event for disabled children who can't go trick-or-treating; and Bob has helped News 13's yearly Toys for Tots holiday campaign. Bob has decided to wrap up a long and successful career this coming March when he will retire from WBTW after 43 years as a South Carolina broadcaster.
Jane Robelot – Masters Award
Jane Robelot is a dedicated news anchor and correspondent with a distinguished career spanning over four decades. She began her professional journey in radio in 1981 and quickly transitioned to television, working for WSPA before being spotted by CBS News Network. This led to Jane becoming a national anchor on CBS Morning News and being promoted to cohost CBS This Morning. Throughout her tenure at CBS News, she covered significant events at that time including the Oklahoma City Bombing, The Death of Princess Diana, Pope John Paul II's historic visit to Cuba, and the Olympic Winter Games in Nagano, Japan. Upon returning to South Carolina, she joined WYFF News 4, anchoring the 4 pm newscast and hosting a series focused on diversity and inclusion. Jane's exceptional work has earned her numerous accolades, including two National Emmy Awards for journalistic excellence and a Peabody Award as part of the WYFF News 4 team that produced the special, Chronicle: Paul's Gift. Beyond her broadcasting achievements, she actively engages in her community, has served on different boards, and has taken on various special projects.
Tony Jamison - Honorary Life Membership
Tony started his career in 1971 when he was in the 11th grade at Walterboro High School and, by the 12th grade, he was an announcer for WALD Radio. While attending the University of South Carolina, Tony worked for WCOS from 1972 to 1974. He also worked for WSCQ doing news part time.
During the next seven years of his career, he moved to Charleston South Carolina to work as a Program Director for WPXI, then to WJLB Detroit, back to the South at WAOK Atlanta, and again to Charleston working for WWWZ.
In 1981, his career took him into the world of Television as he became the Bureau Chief for WFBC Television, now known as WYFF 4 in Greenville, SC. From 1984 to 1989, Tony worked for WSPA Television as their Assistant News Director and Assignment Editor.
The West Coast called, and Tony moved to San Francisco to work for KOFY-TV and Soul Beat Television. In 1996, Tony returned to South Carolina and radio to work as Program Director/Network Operations Director for WFMV and is still there today.
Tony is very active in his community serving many non-profits with his gifts and talents. He works closely with The Columbia Urban League, NAACP, The Greater Columbia Ministerial Alliance, Lower Richland Alumni Association, Omega Psi Phi Columbia Chapter, and many others. Tony is sought after as talent or master of ceremony and is a political producer for many public officials now serving in office. Tony and his family are members of the Brookland Baptist Church. He is an esteemed broadcaster and a credit to our industry.
Margaret Fort Wallace – Honorary Life Membership
Margaret Wallace retired in June 2023 after a 40-year career in broadcasting. She began her career in radio sales at WINH-AM/WGMB-FM in Georgetown, SC. From there Wallace moved to Greenville where she worked for WSPA-FM and WFBC-AM. After being recruited by WIS-AM, she moved to Columbia in 1982 and was promoted to General Sales Manager within three years. Wallace went on to work for WSOC-AM/FM in Charlotte but returned to Columbia as General Sales Manager for WNOK/WOIC in 1990. Her management career in Columbia included WOMG-AM/FM as well as the 6-station radio cluster owned by Clear Channel Broadcasting. After six years with Clear Channel Margaret was hired as General Manager by Double O Radio and given the opportunity to put two new Columbia radio stations on the air. Her career shifted to TV in 2010 when Margaret was hired as an Account Executive at WACH TV where she continued for the next five years. In 2015, the Board of Directors recruited Margaret to serve as the Executive Director for the South Carolina Broadcasters Association. Her shared radio and TV experience combined with her non-profit fundraising knowledge made her the ideal candidate to guide the association and the SCBA Educational Foundation to new levels of fiscal success. In this new role, Margaret became a passionate advocate for the broadcast industry and with the support of NAB and South Carolina broadcasters, celebrated several industry issues wins on Capitol Hill during her eight-year tenure.
2023 Awards of Distinction Dinner Photos
The 2023 Awards of Distinction Dinner was held on January 27, 2023, at the Pastides USC Alumni Center. Click here to view information about the four honorees.
To access photos from the 2023 Awards of Distinction Dinner, click here.
While we offer many programs and services to our community of members, below are a few we want to specifically highlight. Click on each featured service of the SCBA to learn more.
The SCBA is made up of a supportive network of partner stations with common interests working together for the common good. To explore our unique membership benefits and learn how you can join us, click the button below.