Annual Broadcast Exhibition
This all-day exhibition features equipment, products and services of interest to radio and television broadcasters including general managers, engineers, programming and production personnel and other station decision makers.  The exhibition is held each January at the Winter Convention and usually features over 35 vendors.  It is considered "one of the best in the country" by vendors and attendees alike.
Alternative Broadcast Inspection Program (ABIP)
Emergency Alert System (EAS)
Monthly Engineering Webinars
Attention Engineers:
John Mailhot, our guest on the February Engineering Webinar, gave an overview of SMPTE ST-2110. ST-2110 has done an outstanding job of defining how we transport video, audio and metadata essence over IP networks. To view the archived webinar, contact the SCBA office for the link.
The popularity of our monthly Engineering Webinars continues to grow with over 60 attendees at our February 16th presentation. Coming up March 16th will be a special "Radio Productions Techniques" program. This will be a most informative program for both engineers and production staffs.
Our special guest will be Grammy award winning mix engineer Andrew Scheps (Red Hot Chili Peppers, Adele, Metallica, Jay-Z ). He will be joined by Frank Foti with Telos Alliance.
Andrew Scheps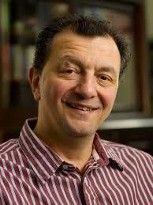 Frank Foti
Foti and Scheps will discuss items such as understanding digital audio, proper setup of your recording equipment, creating templates in your DAW, effective use of multitracks in your project, proper use of background music and  effects, balancing the final mix, and getting the audience attention in the first few seconds of the commercial.
This is a must attend webinar for all Television engineers. It will be presented on Tuesday, March 16th from 11:00 AM – 12:00 PM Eastern time.
Please contact the SCBA office at 803-732-1186 or scba@scba.net to register for these webinars.
In the event you miss one of the webinars, there is a link with an archive of past webinars available to members. Contact SCBA office for additional details.